CHS Basketball Achieve Scrimmage Book Drive 11.26.22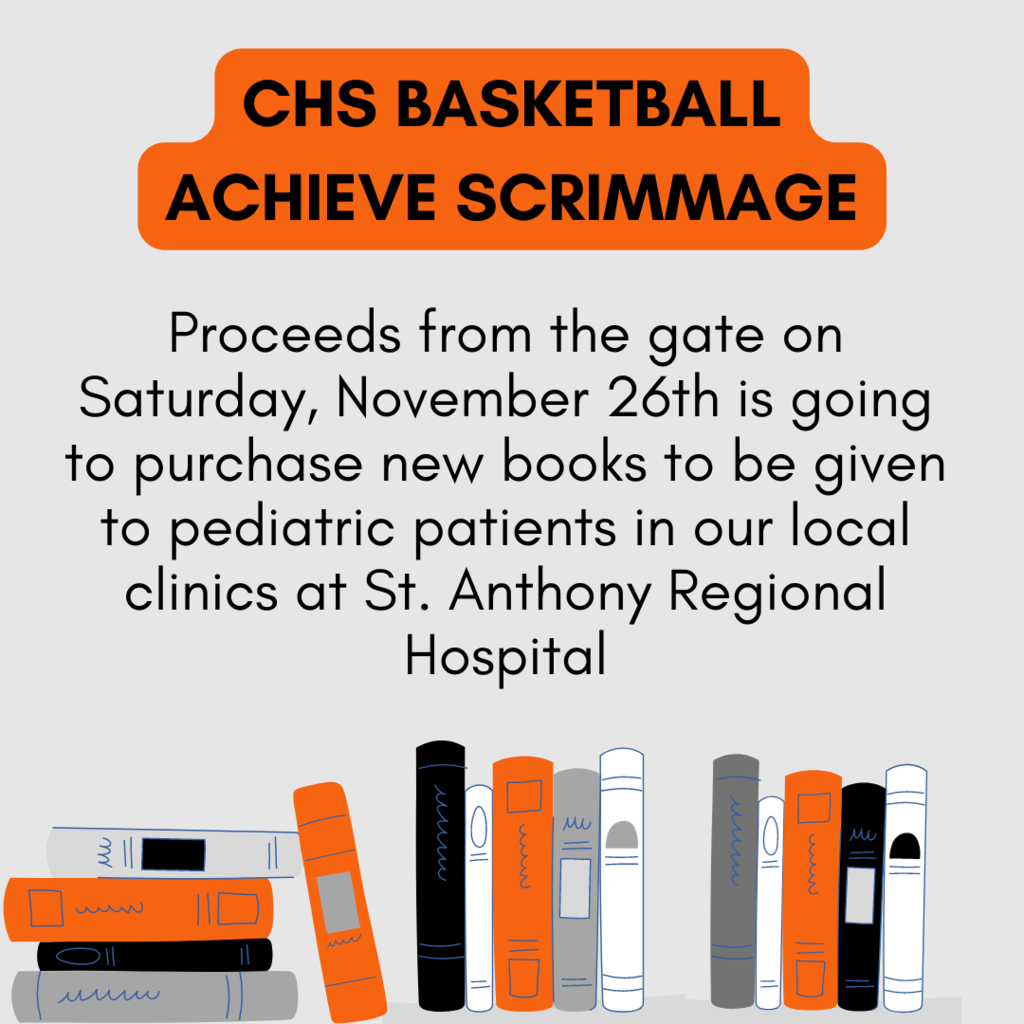 🏀 JV & Varsity Boys Basketball Achieve Scrimmage 🗓Saturday, November 26 ⏰ Varsity 12:30pm @ CHS GYM, JV 11:00am @ FV Gym 📍Carroll High School & Fairview Elementary 🆚 Glenwood 🎟 Cash or donation of new reading, coloring, or activity book 🎥 No Streaming Available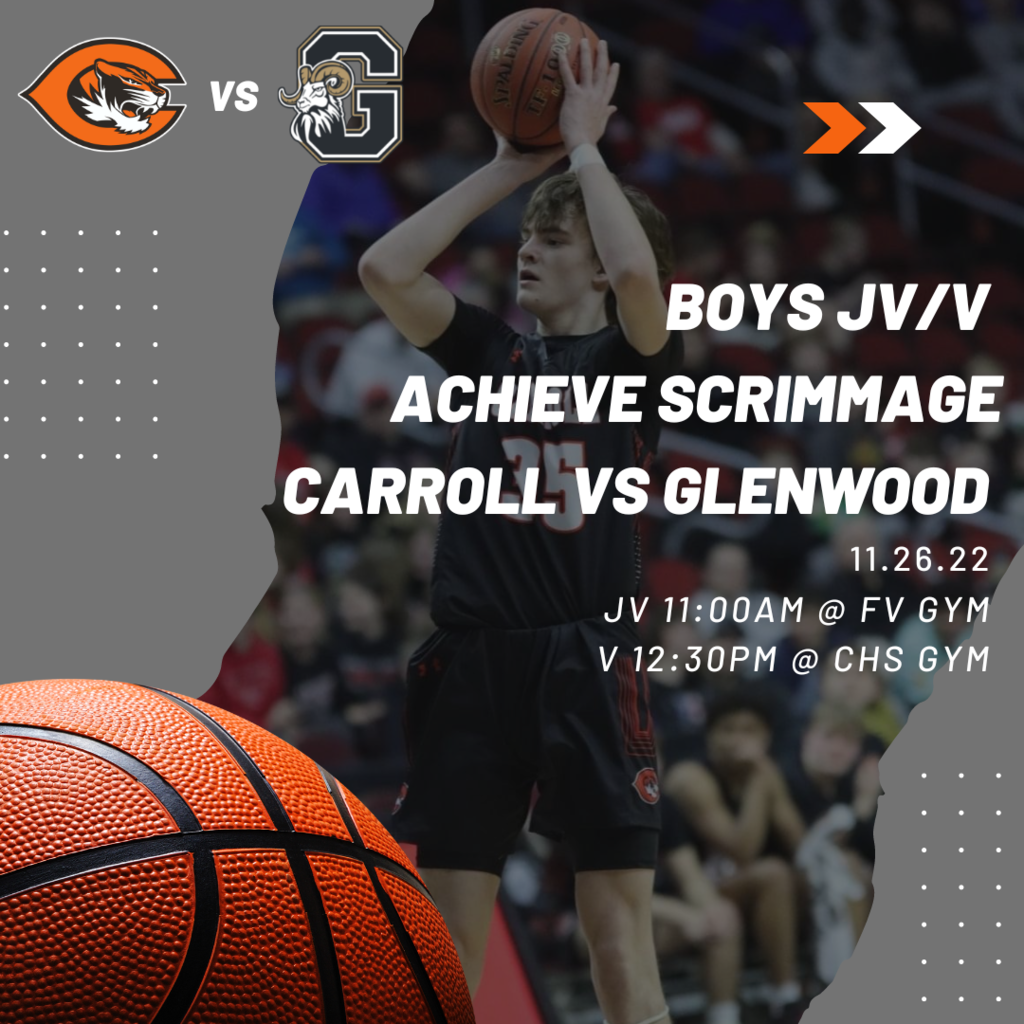 🏀 JVR/JV/Varsity Girls Basketball Achieve Scrimmage 🗓Saturday, November 26 ⏰ Varsity 11AM @ CHS GYM, JV 12:30pm @ FV Gym 📍Carroll High School & Fairview Elementary 🆚 Glenwood 🎟 Cash or donation of new reading, coloring, or activity book 🎥 No Streaming Available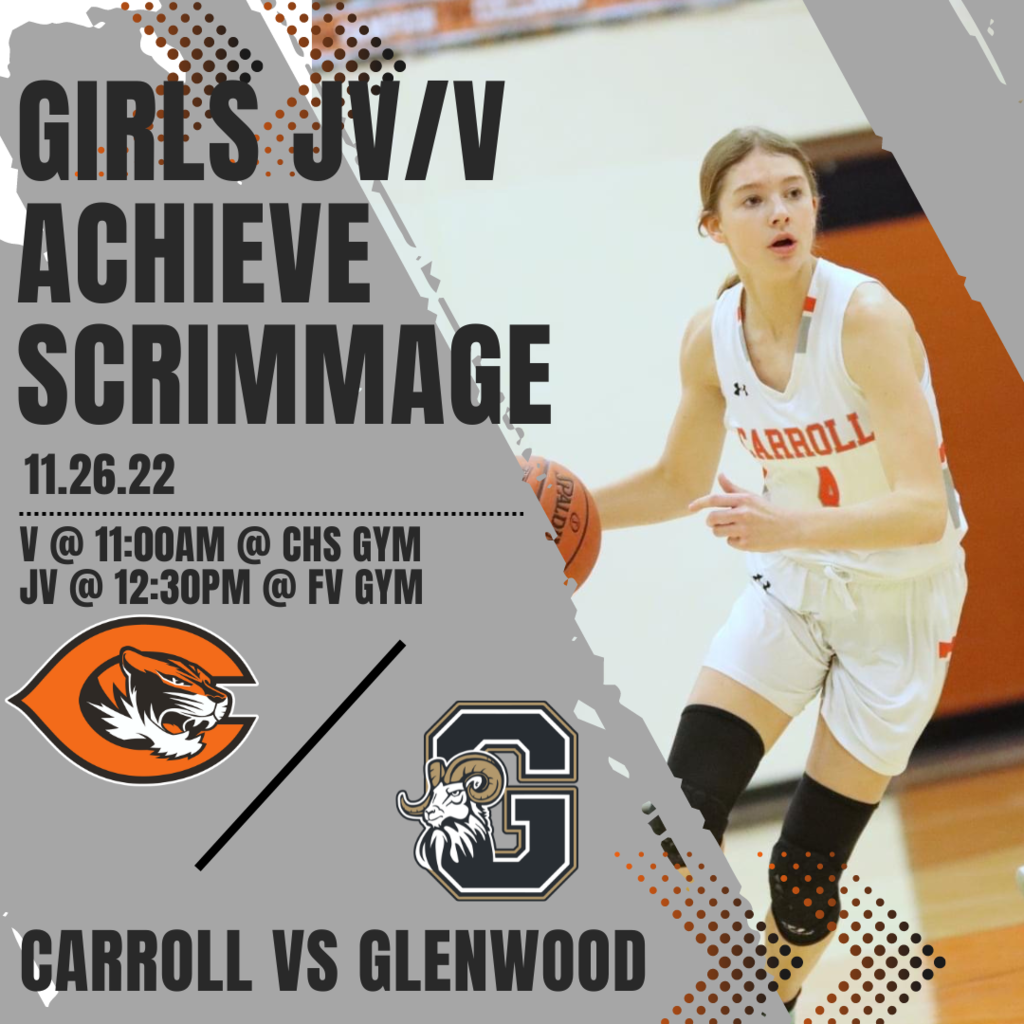 Congratulations Colton Wieland on 2nd Team All-State Offensive Line from the IPSWA/IFCA.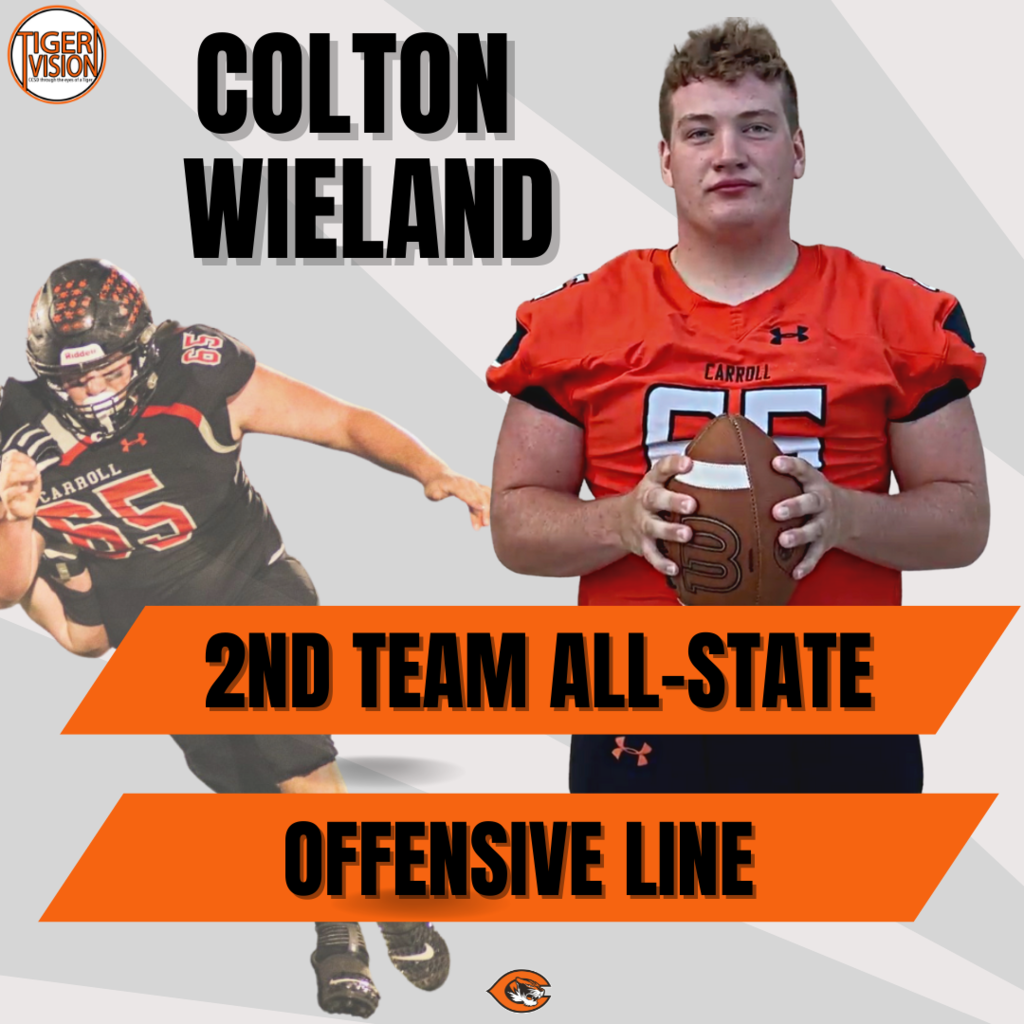 2022-23 CHS Boys Wrestling Schedule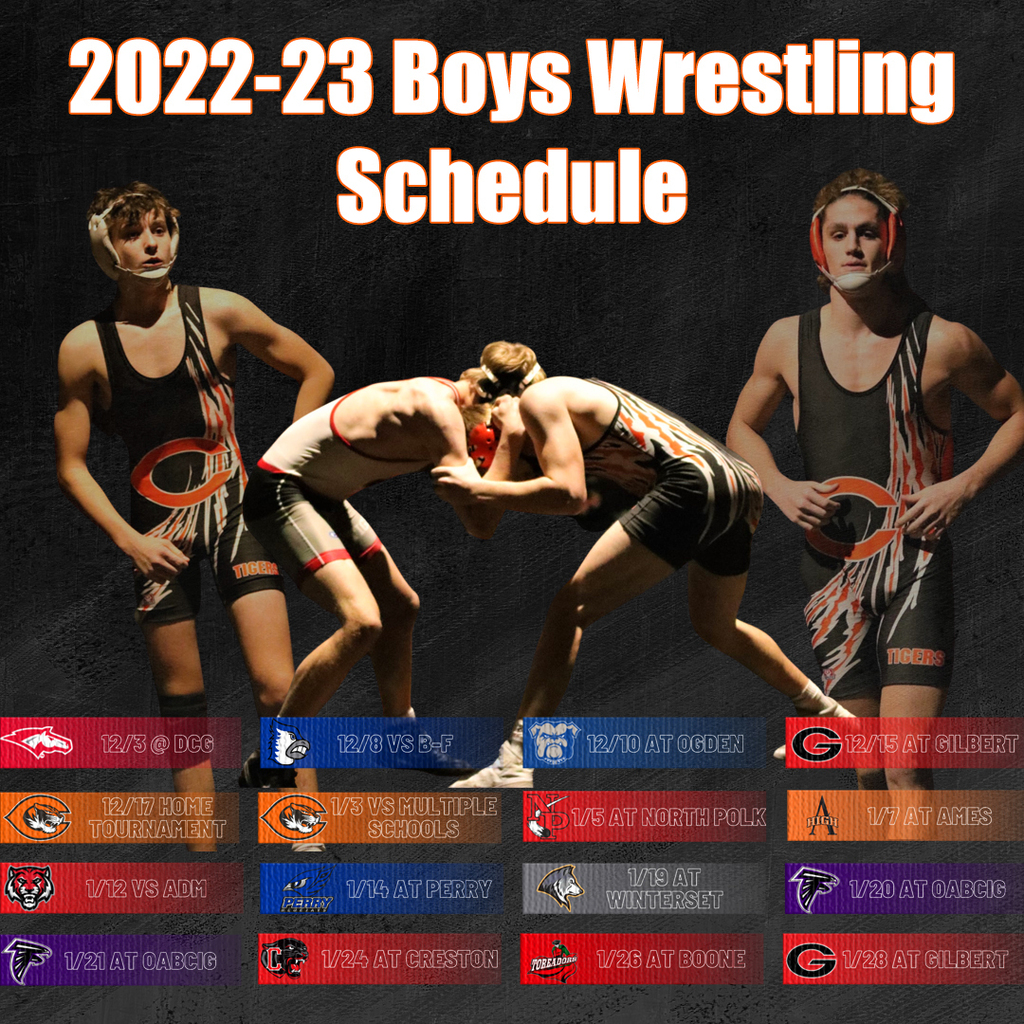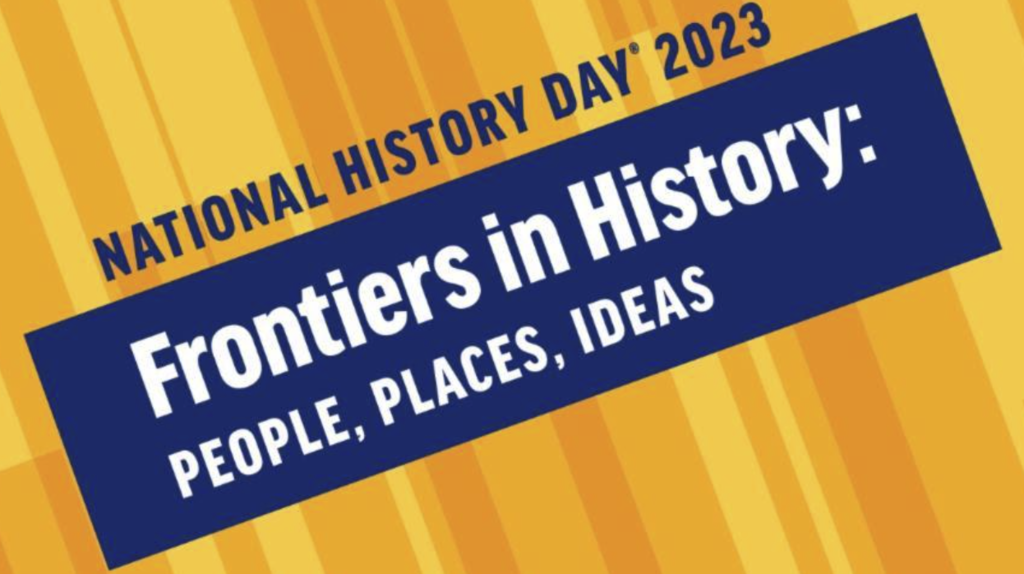 2022-23 CHS Boys Basketball Schedule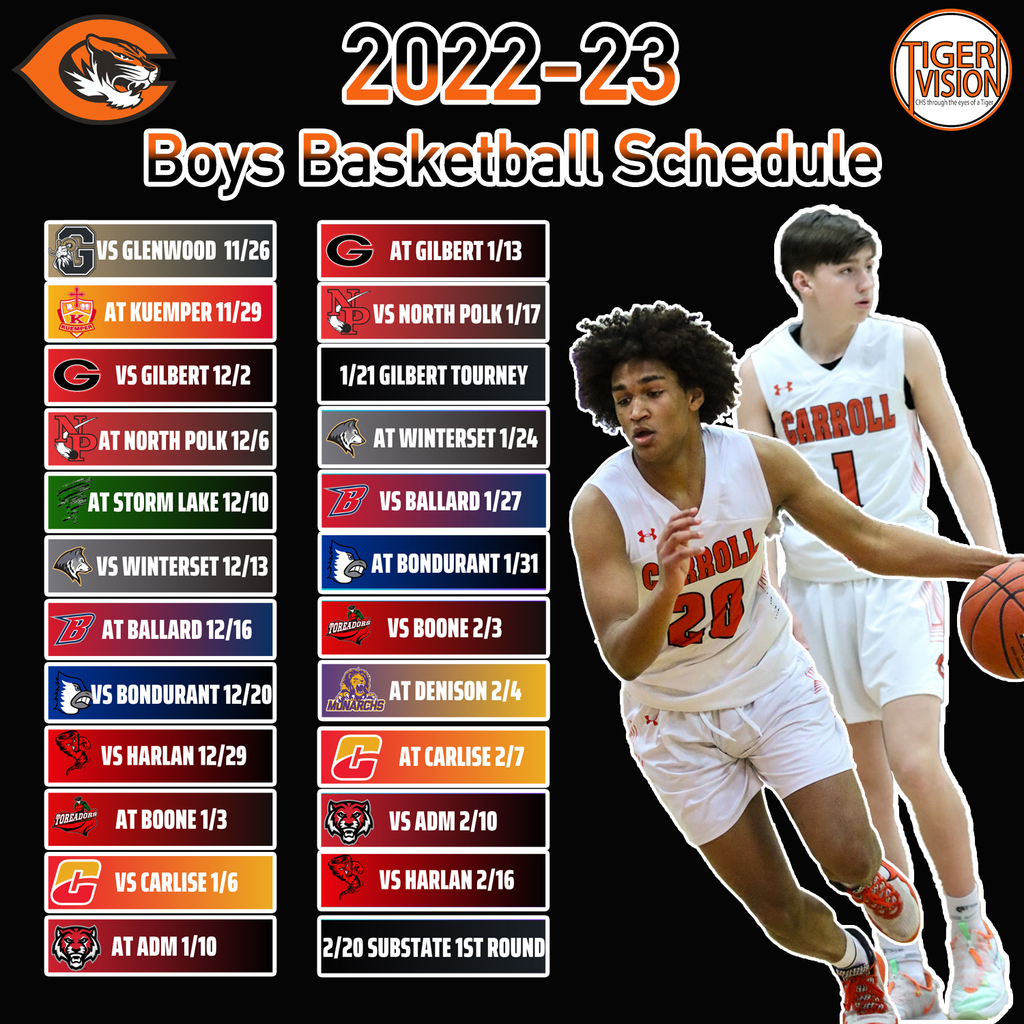 Carroll Tigers Boy Basketball 2022-23 Schedule

CCSD Announcement 11.21.22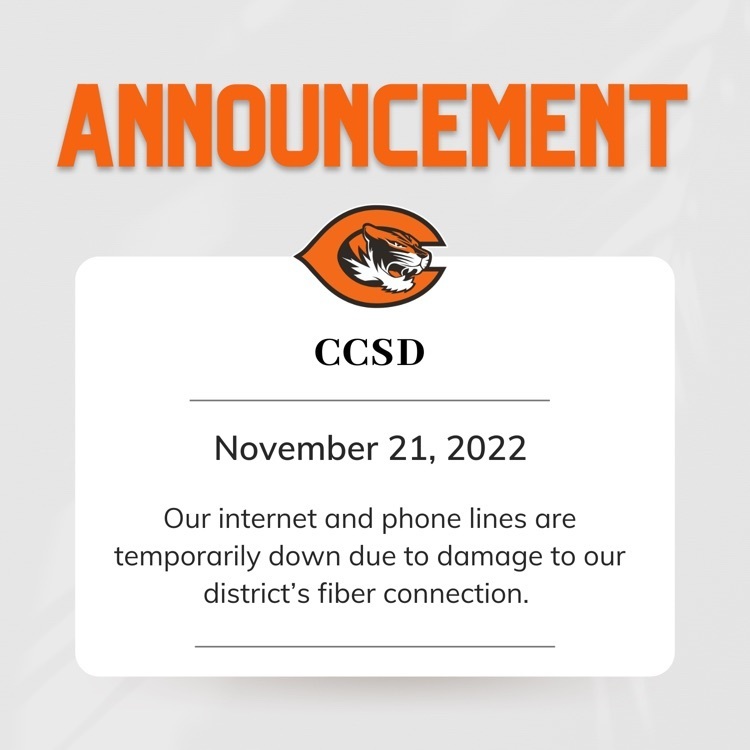 All Black Out and Winter Sport orders are ready to be picked up in the Tiger Shop located at Carroll High School today until 3:00pm and tomorrow, November 22nd from 8:30am-12:30pm. Thank you for supporting your Carroll Tigers and the Tiger Shop!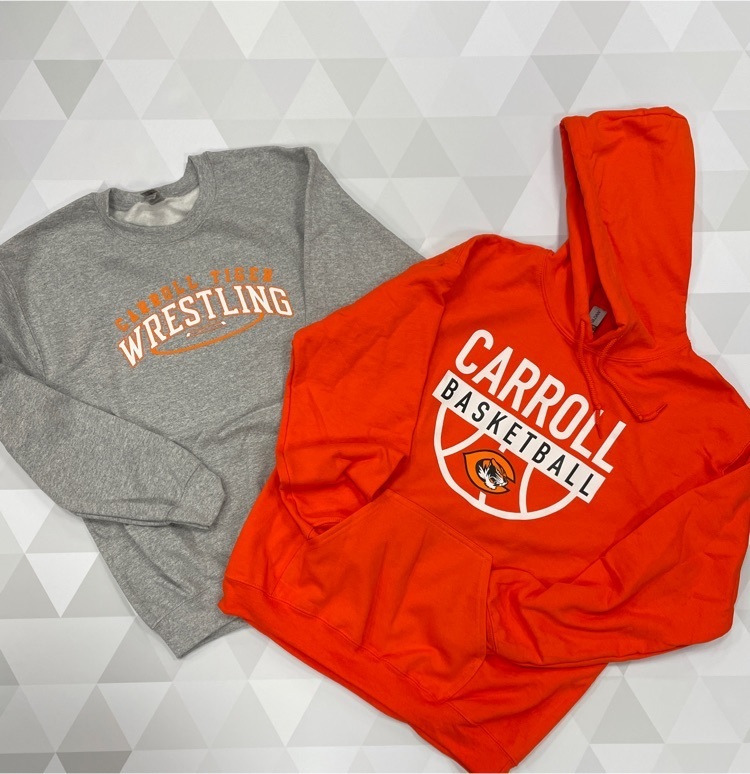 Opportunity for Silver Cord Hours: Luanne Kustra contacted the school and asked if we had any students interested or needing service hours. Volunteers are needed for Stuff the Bus at Hy-Vee on Saturday, November 26 from 8-5. Please call her at 790-5244 for more information.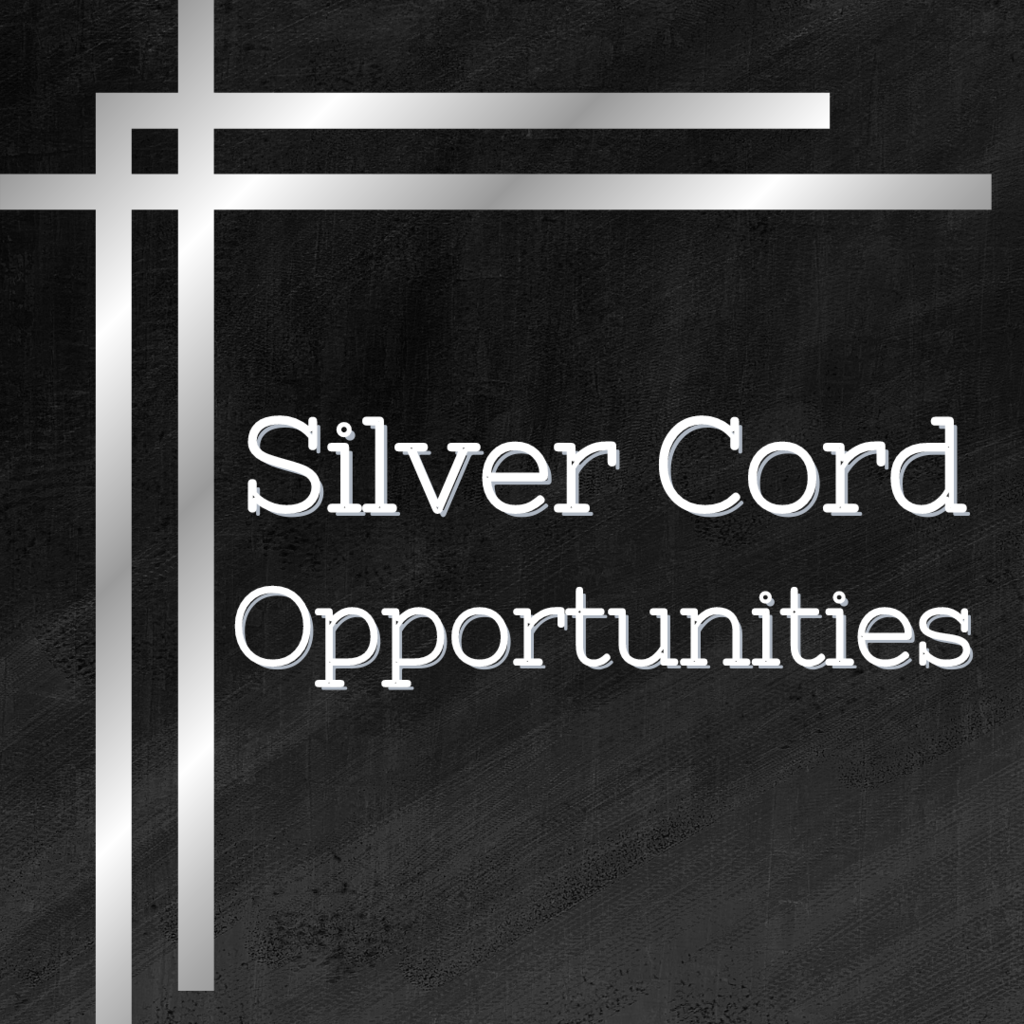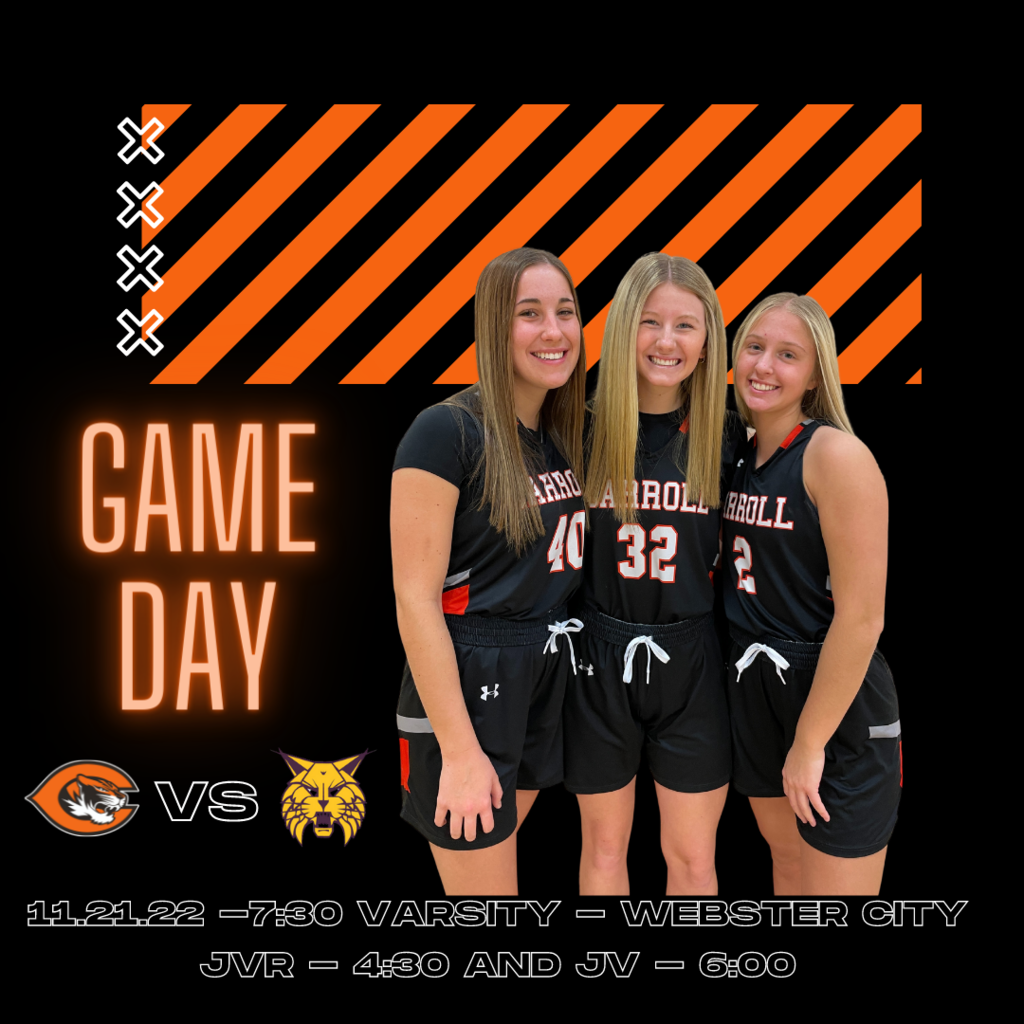 CHS Results from DM North Debate Tournament: Sydney attained 2nd place in her Student Congress session. Maia also competed in Congress. The public forum team (Harrison and Hughes) faced both novice and varsity teams in open competition. They won their "Con" rounds when they could oppose the current "Great Power" resolution.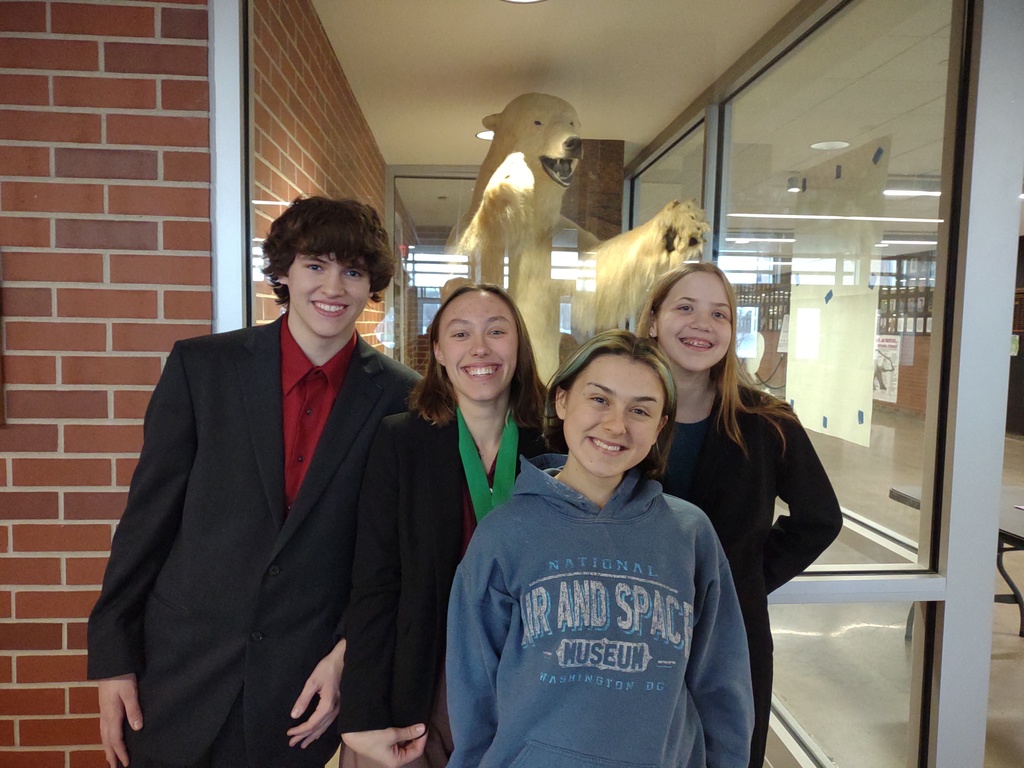 🖤 Early Black Friday Sale 🖤 🗓 Friday, November 17 ⏰ 12-6pm 📍Tiger Shop at Carroll High School 🏷 25% off ALL ITEMS (In-Store Only) ☕️ FREE Hot Cocoa Stand 3:30-6pm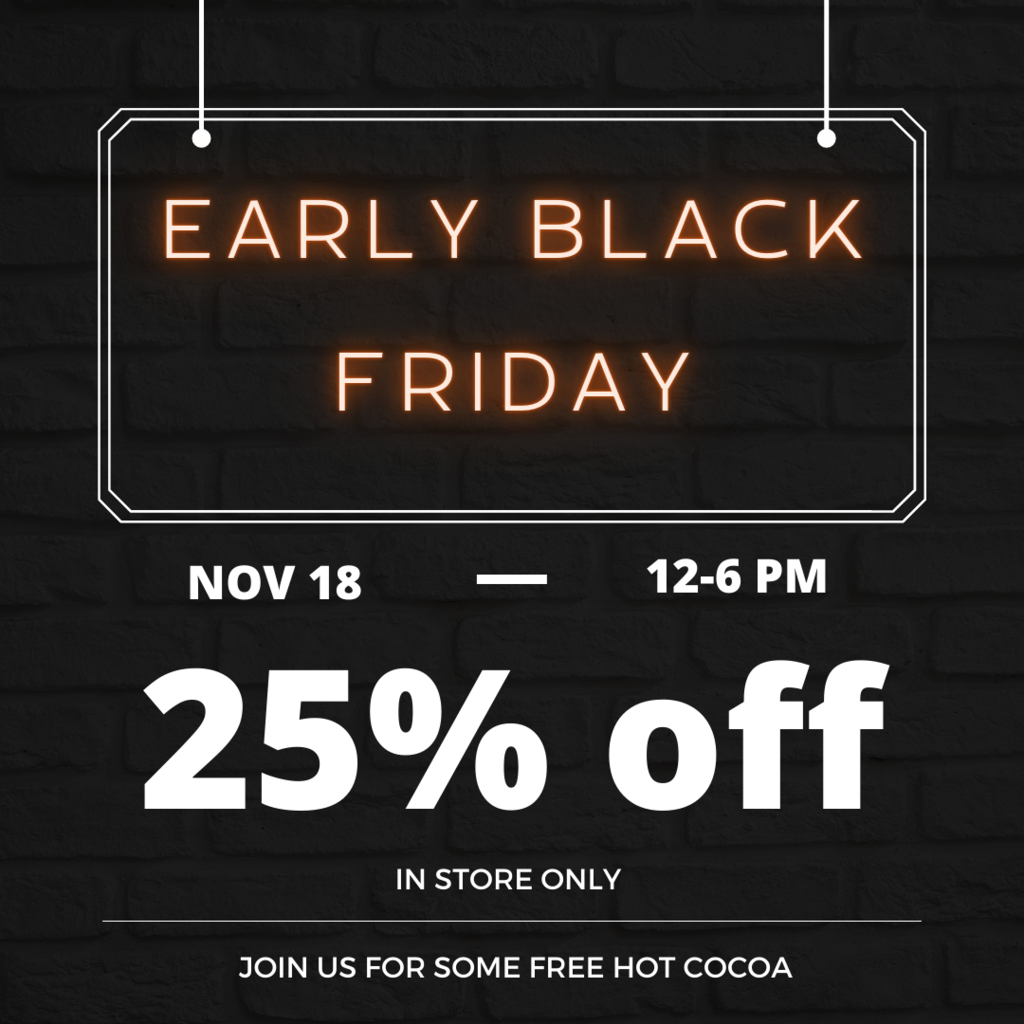 Parker Adams, Caeden Canuso, Keagan Case, Joe Kimball and Madeline Parrott have been accepted into the Iowa All-State Honor Choir that will take place on the ISU campus in Ames. The students will rehearse Thursday, night, Friday and Saturday at Stephens Auditorium with a concert at 7:30 Saturday night in Hilton Coliseum with the Iowa All-State Band and Orchestra. This is the highest honor a high school music student can receive in the state of Iowa. Iowa High School Music Association picks the top 1% of students to participate. We had 13 kids work really hard since August to audition for the these spots on October 22. We know these 5 students will represent our school well! Congratulations!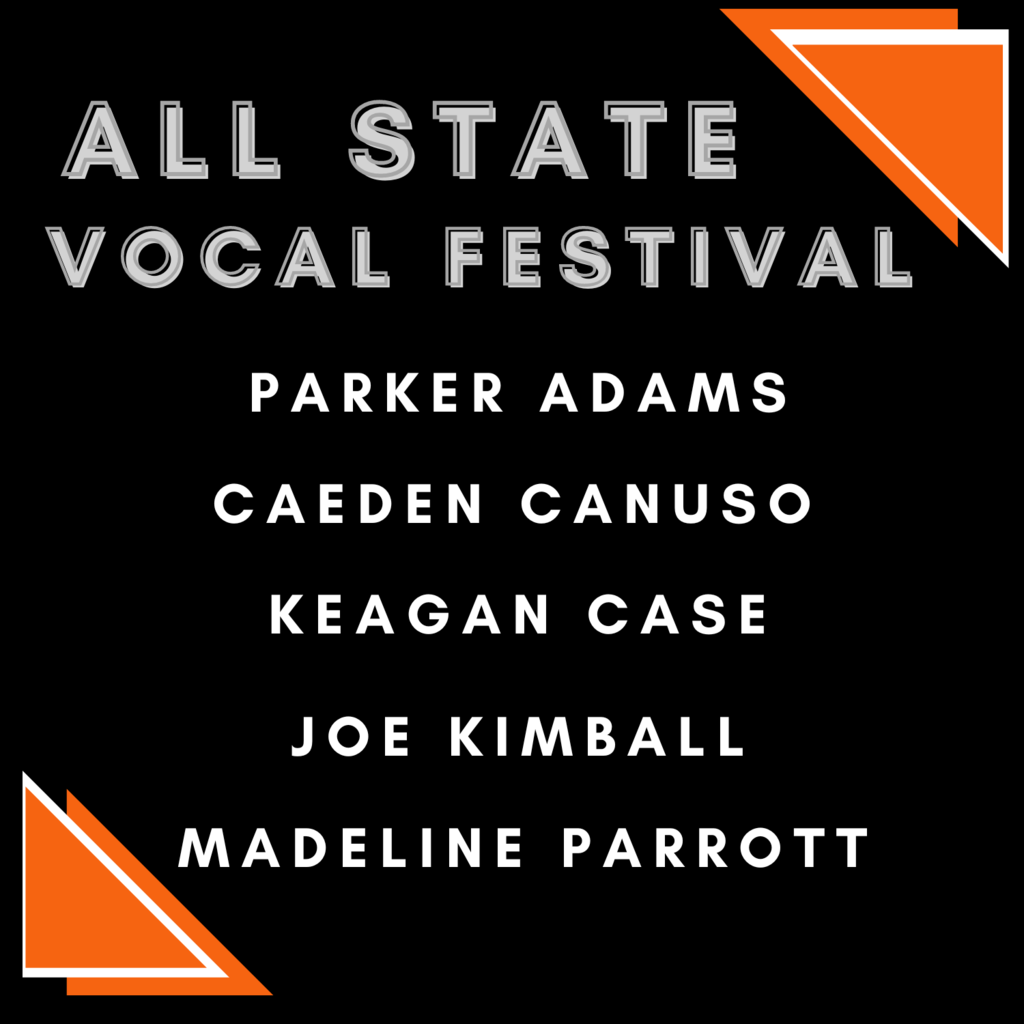 Stop in to the Tiger Shop on Friday 12-6:00pm for our Early Black Friday Event.🖤 All items in store are 25% off! 🏷 Free Hot Cocoa Stand starting 3:30-6pm☕️


This past weekend seven of our FFA members traveled to the Ankeny DMACC FFA Enrichment Center where they participated in the Amplify and Transform leadership conventions. The members got to connect with State Officers, discover ways to strengthen their FFA career, and prepare for the future!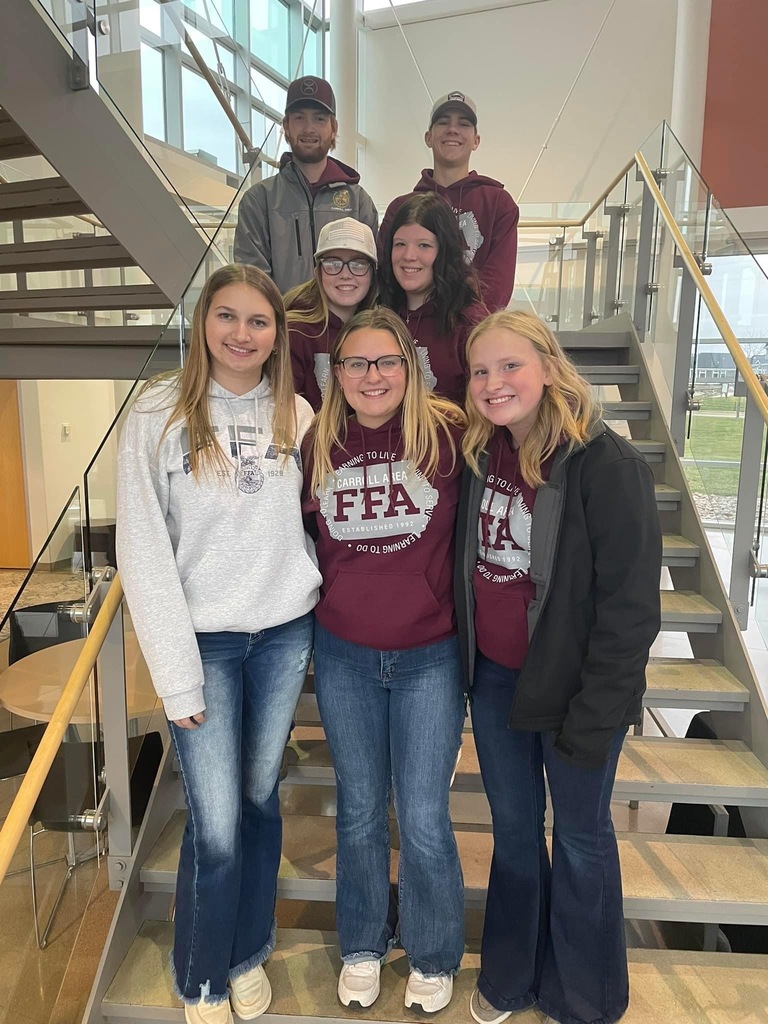 Attention CHS Students